BBH e-news Alert
Your contact details

Building Better Healthcare is designed to provide all professionals and influencers with up-to-date information on the key issues affecting the industry as well as the latest products and services available. The BBH eNews Alerts deliver a weekly digest of the important stories covering Healthcare Facilities, Design, Build, Equipment and Financial news.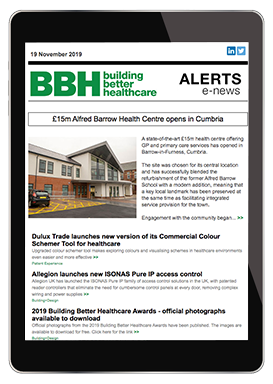 Recent Stories
Official opening of country's largest single-site health centre
Cripps Medical Centre offers improved facilities for patients and staff
Building Better Healthcare Awards 2018: the winners
30 trophies handed out as 600 gather to find out who has been successful in this year's competition
One of UK's first community health and wellbeing hubs opens in Old Trafford
Limelight will pave the way for a new approach to housing for the elderly and community health and wellbeing services
Will hernia mesh be as controversial as vaginal mesh?
Experts comment on whether NICE recommendation against use of vaginal mesh implants could be expanded to hernia repair devices
Hospital parking - fair for all, not free for all
In this article we look at how Torbay Hospital has introduced new technology from WPS to make parking fairer for staff, patients and visitors