BBH e-news Alert
Your contact details

Building Better Healthcare is designed to provide all professionals and influencers with up-to-date information on the key issues affecting the industry as well as the latest products and services available. The BBH eNews Alerts deliver a weekly digest of the important stories covering Healthcare Facilities, Design, Build, Equipment and Financial news.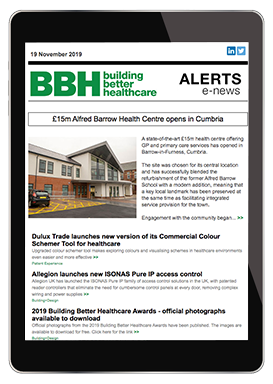 Recent Stories
NHS chief executive claims he is 'confident' £2.8bn NHS capital investment 'is real'
Simon Stevens tells IHEEM Annual Conference new hospitals will come to fruition
Fusion21 announces £500m heating and renewables framework
Public-sector procurement route open to local SMEs
Biofuel generators could save the NHS millions and help reduce carbon emissions
SIMEC Energy targets UK healthcare operators with a ready-to-use fleet of waste-derived biofuel solutions
Plans for two new hospitals in Leeds are unveiled
Adult and children's hospitals to be funded as part of £2.8bn Government capital announcement
The Building Better Healthcare Awards 2019 is open for entries!
Today sees the eagerly-anticipated launch of the 2019 Building Better Healthcare Awards.