BBH e-news Alert
Your contact details

Building Better Healthcare is designed to provide all professionals and influencers with up-to-date information on the key issues affecting the industry as well as the latest products and services available. The BBH eNews Alerts deliver a weekly digest of the important stories covering Healthcare Facilities, Design, Build, Equipment and Financial news.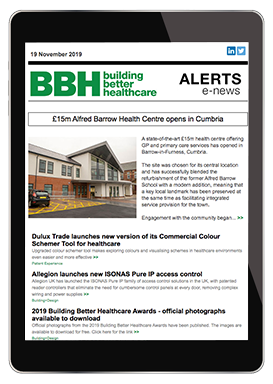 Recent Stories
New Victoria Hospital opens £30m reception and outpatient suite
60-year-old hospital gets a facelift
Will hernia mesh be as controversial as vaginal mesh?
Experts comment on whether NICE recommendation against use of vaginal mesh implants could be expanded to hernia repair devices
Medtech start-up announces $7m in funding
Medbelle's end-to-end platform for medical to accelerate the digitisation of the patient journey
Shopping centre offices transformed into modern sexual health clinic
Work completed on refurbishment of Haymarket Shopping Centre, Leicester
NHS Lothian increases capacity with mobile endoscopy suite
Vanguard Healthcare Solutions provides mobile unit to enhance services for next two years