BBH e-news Alert
Your contact details

Building Better Healthcare is designed to provide all professionals and influencers with up-to-date information on the key issues affecting the industry as well as the latest products and services available. The BBH eNews Alerts deliver a weekly digest of the important stories covering Healthcare Facilities, Design, Build, Equipment and Financial news.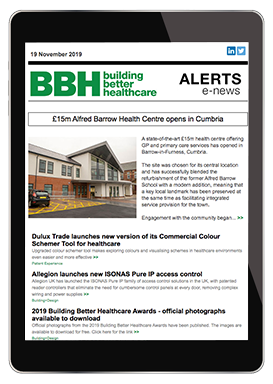 Recent Stories
Moving monitors, avoiding blind spots
Maintaining continuity of medical care is vital when moving a critically ill patient
Interserve wins Liverpool Women's Hospital contract
Work set to begin on new neonatal intensive care unit
Will hernia mesh be as controversial as vaginal mesh?
Experts comment on whether NICE recommendation against use of vaginal mesh implants could be expanded to hernia repair devices
Compton Care appoints BAM to build £2.5m care co-ordination centre
BAM selected through P22 Construction Procurement Framework to enhance care available for people with complex and incurable conditions
The 2018 BBH Awards presents the Best ProCure Project in collaboration with P22
In celebration of the third instalment of the ProCure framework, the Building Better Healthcare Awards will be awarding the Best ProCure Project under the P21+ framework.