BBH e-news Alert
Your contact details

Building Better Healthcare is designed to provide all professionals and influencers with up-to-date information on the key issues affecting the industry as well as the latest products and services available. The BBH eNews Alerts deliver a weekly digest of the important stories covering Healthcare Facilities, Design, Build, Equipment and Financial news.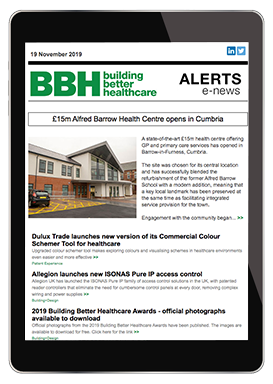 Recent Stories
Manchester NHS trust invests £10.9m in new energy technology
Energy Performance Contract funds improvements at Wythenshawe Hospital and Withington Community Hospital
Health Secretary announces £250m investment in artificial intelligence
New National Artificial Intelligence Lab will use the power of artificial intelligence (AI) to improve the health and lives of patients
North West health technology entrepreneurs win European funding
Two North West entrepreneurs are among winners of a European HealthTech funding competition
Axe the fax machine, not the fax, experts advise
Can digital fax technology help to more-effectively drive the Government's plan to rid the NHS of archaic fax machines?
Invest £1bn for a £10bn return
Following Prime Minister, Boris Johnson's announcement of cash for 20 hospital developments, Shane Tickell of IMS MAXIMS argues that the Government would be better investing the cash in medical technology