BBH e-news Alert
Your contact details

Building Better Healthcare is designed to provide all professionals and influencers with up-to-date information on the key issues affecting the industry as well as the latest products and services available. The BBH eNews Alerts deliver a weekly digest of the important stories covering Healthcare Facilities, Design, Build, Equipment and Financial news.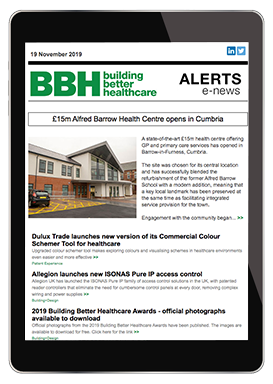 Recent Stories
AFL Architects to design Rutherford Diagnostics centres
Architectural firm appointed to deliver series of new facilities across the UK
Maggie's St Barts 'Supreme Winner' at Surface Design Awards
Cancer centre singled out as a 'beacon' for design
Healthcare technology predictions for 2019
Noel Sheppard, general manager of Distec, looks at how technology will impact on the healthcare sector in the next 12 months
Revised British standard on Legionella risk assessment
Document addresses water quality and risk assessment to curb outbreaks of Legionnaire's disease
Will hernia mesh be as controversial as vaginal mesh?
Experts comment on whether NICE recommendation against use of vaginal mesh implants could be expanded to hernia repair devices